San Jose, 7-18-15 Gorgeous Day, Dismal Prospects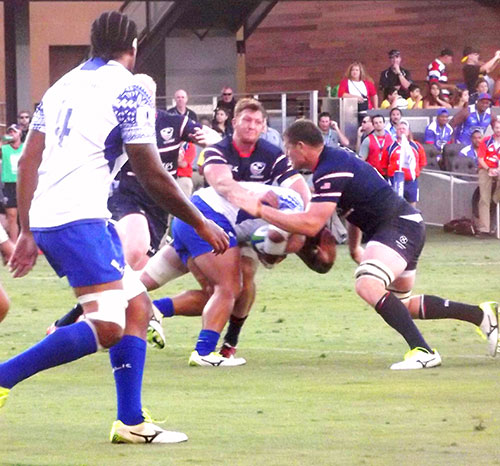 On a gorgeous July evening in the beautiful new Avaya stadium in San Jose, California, the USA fell 21-16 to Samoa in their Pacific Nations Cup opener. The Eagles were down 21-3 at half and struggled in the second half to make a match of it against a side that was largely a Samoan B-side. Only 5 of the Samoan starters had played 10 days earlier in the historic match in Apia, Samoa, where they lost 25-16 to the world champion New Zealand All Blacks. Eight months earlier the All Blacks trounced the Eagles 74-6 in Chicago.
After a slow start and weak tackling which saw Samoa score their first try and a couple of penalty kicks the USA settled down some. Danny Barrett playing #8 led the way in defense. The Eagles were also short a couple of their better players like Samu Manoa and Todd Clever. Clever has since been released from the Pacific Nations Cup squad for behavior that officially been described as "contrary to the team culture" and unofficial rumors give reasons like modeling for ESPN and missing team meetings. Todd was replaced as captain for this match by Chris Wyles, fullback, after years of leading the Eagles.
The Eagles new fly-half, AJ McGinity, gained composure during his first match as an Eagle, but besides a few breaks inside his opposite number which often left him isolated there was little if anything to indicate the Eagles have solved their fly-half dilemma. Wyles, who is a very competent kicker, gave all penalty and conversion opportunities to McGinity who missed a couple of early penalty kicks, but then seemed to settle to end with 11 points on 3 penalties and a conversion.
The Eagles try came from prop Titi Lamositele after the Eagles were finally successful in maintaining possession through several phases within 5 meters of the try line. In earlier phase play the Eagles were slow to recycle and seemed often disorganized with the two scrumhalfs the Eagles used, Shalom Suniula and Mike Petri, directing and sometimes pushing Eagle players into position. The backline was seldom used in phase play. The ball was kept close and turned over often.
Although this is being touted as a good start for the Eagles against a much higher ranked team (Samoa #9, USA #16), it does not bode well for World Cup hopes of getting to the knock-out round or being the first U.S. team to win 2 matches in a World Cup. The Eagles face Samoa in their first World Cup match on Sept. 20th, and it will be a considerably more talented Samoan side. The other 3 teams in their pool (South Africa #2, Scotland #11, and Japan #12) make up what is arguably the weakest World Cup pool. On Friday, July 24th, the USA faces off against other Pool B member Japan who beat Canada 20-6 in San Jose before the USA v Samoa match.
The question of what is the cause of Eagle problems persist. Issues related to organization and player selection often are placed at the feet of Coach Mike Tolkin who took over following his stint as defensive coach under Eddie O'Sullivan during the 2011 World Cup. Prior to this he was coach of New York Athletic Club. His tendency to select from current or former NYAC players has created concerns that he is too tied to a nepotistic-like selection process that precludes his finding talent from other sources and a lack of experience coaching top level rugby players. His failure to even bring in stars from the USA's successful 7s team like Perry Baker, Garret Bender, and Carlin Isles to camp before the upcoming World Cup is an example of possible opportunities lost. The recent dismissal of Todd Clever and disorganization during the Samoa match does not create confidence that Mike's 4 years as head coach has developed the skills and leadership the Eagles will need to be successful in winning even one World Cup match. On Friday, July 24th, at Bonny Field in Sacramento hopefully all concerns will be laid to rest when the USA dominates the Brave Blossoms from Japan.