Rugby World Cup 2015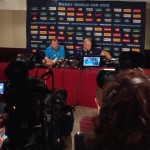 With 8 matches left before the knock-out round, the pools are about to dry up. Canada, Fiji, and Georgia can already go home. South Africa will hang around to try to show the world their loss to Japan was truly a fluke when they face the loser of Saturday's match between Australia and Wales when […]
2015-2016 Articles
New Orleans Royale wins Shreveport Horseshoe Casino and Hotel Bossier City Louisiana 7s August 15,  2015.
This is the annual DeepSouthRugby.net list of events during the 2014-15 season. If you have other events that should be listed send them to deepsouthrugby@hotmail.com. These are not presented in any particular order. LSU is suspended in the fall season for use of alcohol on a rugby trip. Information indicates that a receipt for the […]
More 2015-16 articles
History of Deep South Rugby
More articles on history of rugby in Deep South
Robert Markel – The Godfather of Deep South Rugby

Robert Markel was the founding member of the first Spring Hill College Rugby Team in 1969. Springhill players later formed Battleship RFC. Robert also founded Jackson RFC and was an early member of New Orleans RFC. Robert has played rugby in every decade since the 1960s and continues to coach high school rugby, a thriving league that he started along with a few other New Orleans RFC players (Sam Forenet, Gary Giepert and others), in his native New Orleans. Robert is pictured above finding space for Spring Hill.